Residency program at Radialsystem
Within its new residency program "Body Time Space", Radialsystem invites Berlin based artists or groups to its studios for a residency of four weeks. The aim of these residencies at Radialsystem is to enable dance professionals to develop and deepen their existing artistic focus in an open and safe environment. The residency in this case stands for an openness towards the artistic process and acknowledges that time and space are essential for artistic development. Therefore they should be understood as a space for pre-conceptual experimentation – beyond a concrete production.
During the residency phases, the artists are invited to reflect on their own work in transdisciplinary exchange with international dialogue partners from other fields of knowledge and/or artistic disciplines. The process can be opened to the public in the context of studio visits, public performances, workshops or exhibitions on the stages and in the studios of Radialsystem. In addition to a grant, the dancers receive technical support, dramaturgical assistance and production or press/marketing coaching by Radialsystem's staff if required.
Body Time Space is part of the pilot project "Residenzförderung für Berliner Tanzschaffende" (Residency Funding for Berlin Dance Professionals), in which the Senate Department for Culture and European Affairs has announced and awarded residency programs for the first time in 2020. Together with eight other venues, Radialsystem will offer residencies to Berlin based dance artists.
Oktober 2022: Tänzerin und Choreografin Rocío Marano
Argentine dancer and choreographer Rocio Marano has been awarded a residency in Radialsystem's programme "Body Time Space" for October 2022. Her artistic research focuses on traditional Argentine dance, challenging Western attributions such as those assigned to folklore, as well as related aesthetic paradigms of contemporary academic dance. Her residency allows her to explore "Latinfuturism" and its notion of time, a theory that is suspicious of the idea of a glorious future realised through acceleration and progress.
Building on her last work "Matria", Marano also deepens her exploration of Malambo – a traditional Argentine gaucho dance form that emerged during the colonial "conquest" of the Wallpampu desert. Within a performative approach, Marano's interest lies in bringing opposites into contact with one another in space and time. Using VR technologies and 360° cameras, she explores the artistic and aesthetic dimensions of such spatiotemporal points of contact.
The workshop Matria – Motherland marks the end of the residency period.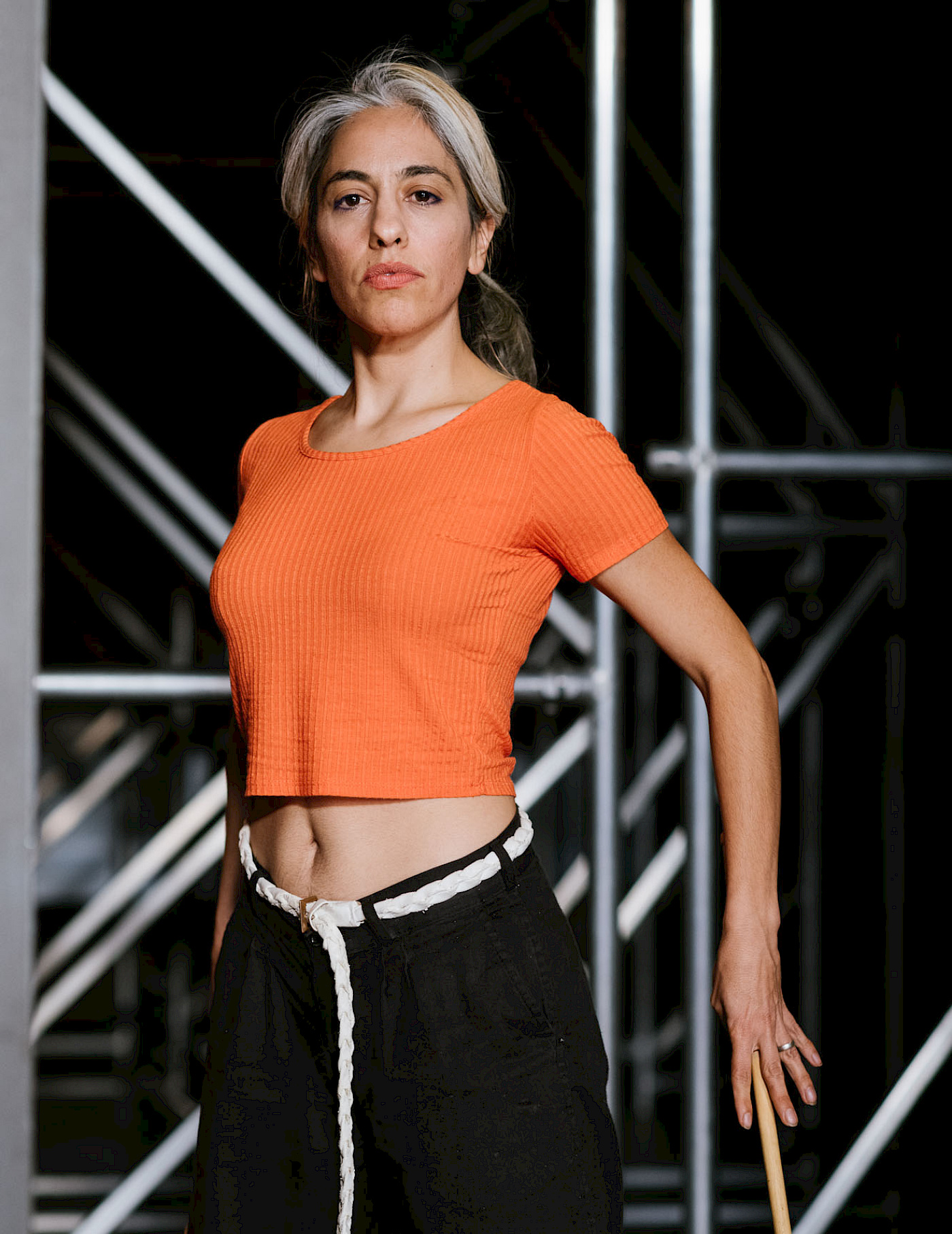 © Phil Dera
Mai 2022: Tänzerin, Choreografin und Kuratorin Kianí del Valle
As part of her "Body Time Space" residency at Radialsystem, Kianí del Valle is developing the concept of "Mujer Pulpo" ("Octopus Woman"). Through a dialogue between dance and film, the Berlin-based Puerto Rican dancer, choreographer, director and performance curator explores the biographies of eight women forgotten by history; in Radialsystem she focusses on German postmodern dancer, choreographer and dance teacher Mary Wigman, and US-American performance artist Carolee Schneemann. Each solo features a live performance and film, developed in collaboration with various music producers and filmmakers, and is the point of departure for the "Mujer Pulpo" project to eventually become a "cinematheque".
Kianí del Valle is the founder and choreographer of the KDV DANCE ENSEMBLE in Berlin. Her work has been shown at such arts organisations as the Barbican in London, the CCCB in Barcelona, the Getty Museum in Los Angeles and the Tribeca Performing Arts Center in New York City. Her recent work explores historical Caribbean narratives within the context of postcolonial realities and indigenous Taíno culture.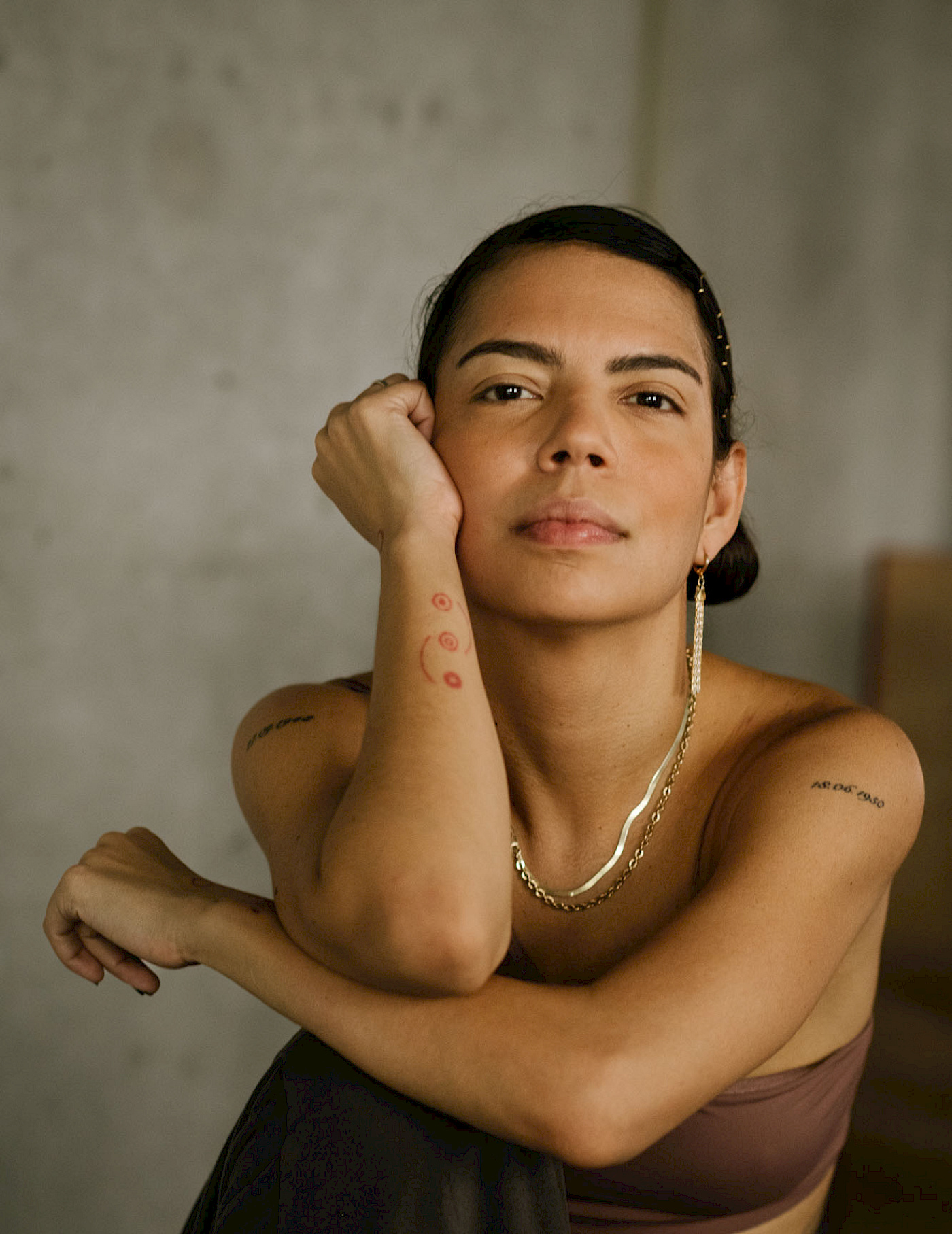 © Phil Dera
März 2022: Choreograf Pol Pi
Following its successful inaugural year at Radialsystem in 2020, the residency programme "Body Time Space" is expanding: in cooperation with the Institut français, "Corps Espace Temps" is a programme aimed specifically at dance practitioners from France. The diverse dance scene boasted by France is hardly visible in Berlin due to a lack of funding for touring performances. The "Corps Espace Temps" residency at Radialsystem closes this gap, as France-based dance practitioners are given a platform and can enter into dialogue with artists from Berlin's independent scene. The first to participate is choreographer Pol Pi, who, together with musicians from the soloist ensemble Kaleidoskop, will deepen and further develop his artistic focus over a two-week research period.
Pol Pi is a transmasculine choreographer and performer from Brazil who has resided in France since 2013. His work revolves around questions of memory, translation and the notion of archive in dance. During his residency at Radialsystem, he and cellist Sophie Notte will explore the tensions and energies that seize and flow through a person's body when playing an instrument, and how this intensity can be translated into movement and dance. Pol Pi's work has been performed internationally; his most recent works include "beauty is accessory" (2021), "daté-e-s" (2020) and "Me too, Galatée" (2018).
© Valerie Archeno
April 2021 Choreographer, Dancer and Visual Artist André Uerba
Touch, closeness, togetherness – a choreographic-performative exploration of the practice of touch: During his residency at Radialsystem, André Uerba explores the different dimensions of touch – its properties, qualities and complexities. Through movement, ritardando and focus on the body, he and his co-residents test out different forms of becoming acquainted with and sensing one another as a means to uncover the potential of togetherness. He thus continues his examination of the topic of touch, which he embarked upon in 2018. André Uerba studied solo/dance/authorship at HZT Berlin (Inter-University Centre for Dance) and photography at Ar.Co Lisbon. He was awarded early career funding from the Berlin Senate in 2018 for his piece "Burn Time", which he presented at Radialsystem in 2020 and elsewhere. Uerba has been part of the project "Re-Think (Accessibility & Sustainable Mobility)" since 2021.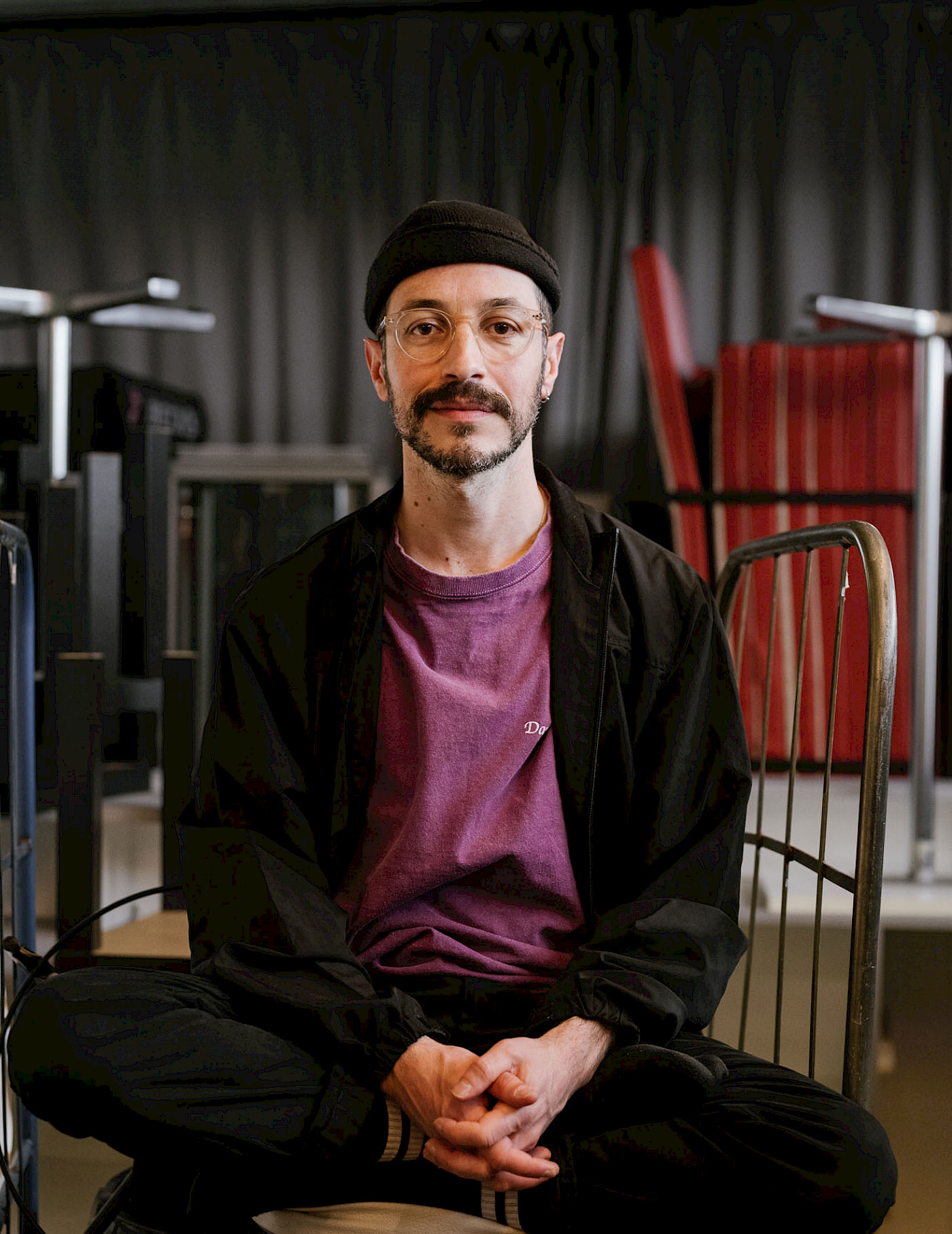 © Phil Dera
February 2021 Choreographer and Dancer Jee-Ae Lim
Her artistic interest lies in the observation of the body as a moving archive – as a conveyor of cultural experiences and memories in the relationship between tradition and contemporaneity, individual memory and cultural remembrance, mobility and homeland. The impetus for her work is her own experience of diaspora, which she reflects corporeally in dance. Together with co-resident Natsuko Tezuka, she explores the 'diasporic' body as a potential new form of cultural practice. Jee-Ae Lim studied traditional Korean dance in Seoul and completed her master's degree in Solo/Dance/Authorship at HZT Berlin. In 2014 she was voted 'Hoffnungsträgerin' ('Promising Artist') in the Tanz Magazine Year in Review issue as well as 'Young Leading Artist 2015' by Gaeksuk Magazine. Between 2017 and 2020 she received several grants from the Berlin Senate and the Arts Council Korea.
Videointerview Jee-Ae Lim and Natsuko Tezuka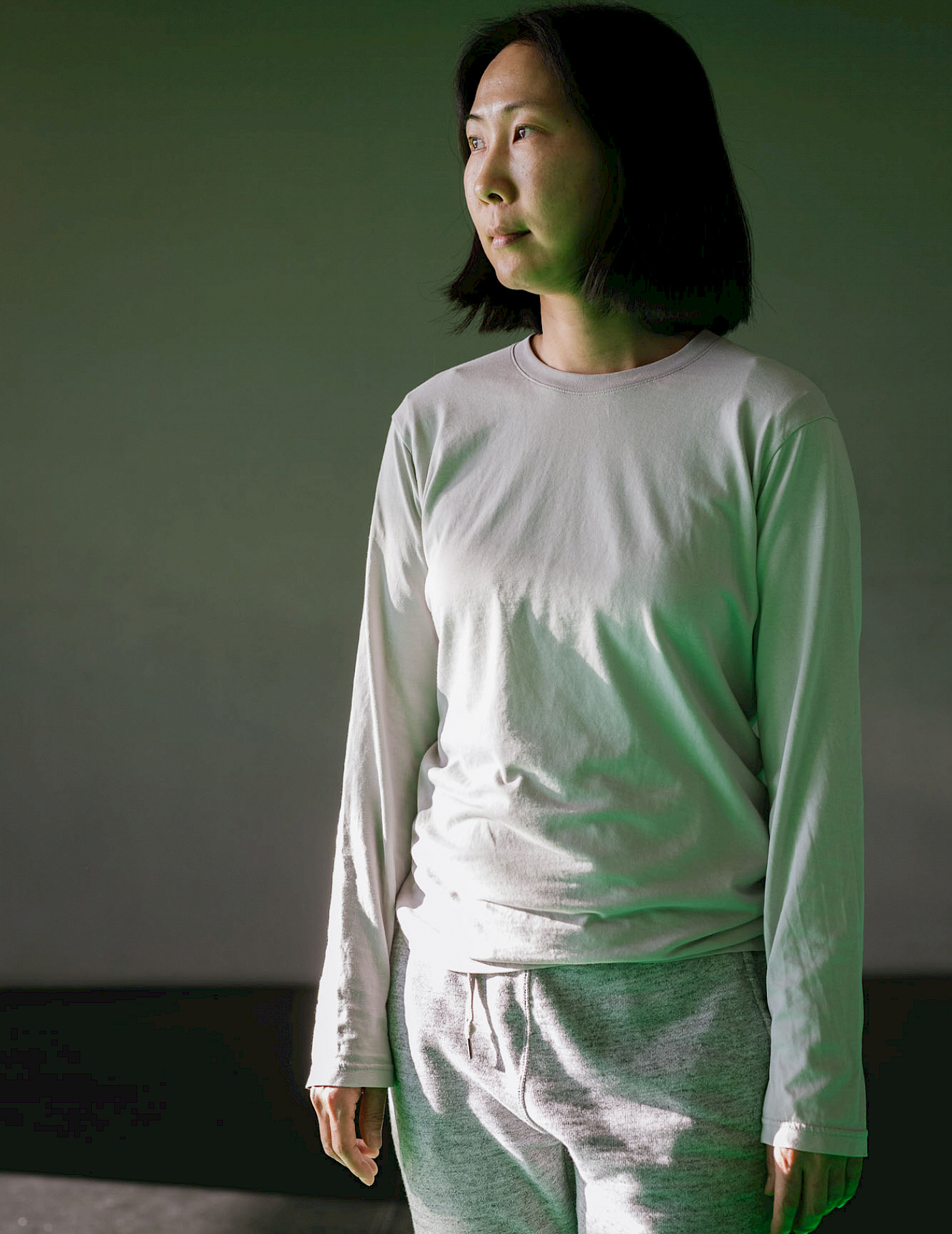 © Phil Dera
Novmeber 2020 Choreographer and Dancer Lina Gómez
Lina Gómez's unique brand of choreography is characterised by uncompromising engagement with the body, a strong sense of form, and the merging of diverse movement traditions stemming from different cultural contexts. The relationship between music and dance that is intricately carved out in her pieces enables a new contemporary view of what 'music theatre' could mean beyond the conventions of the genre. The Colombian-born choreographer, dancer and movement teacher studied dance and theatre in Sao Paulo/Brazil and Berlin. Her ensemble piece 'A Passo di Mulo' (2018) was awarded funding by the Berlin Senate Department for Culture and Europe. As a dancer and performer, Lina Gómez works with Tino Sehgal, Yoshiko Chuma, Edson Fernandes and Jorge Garcia, among others.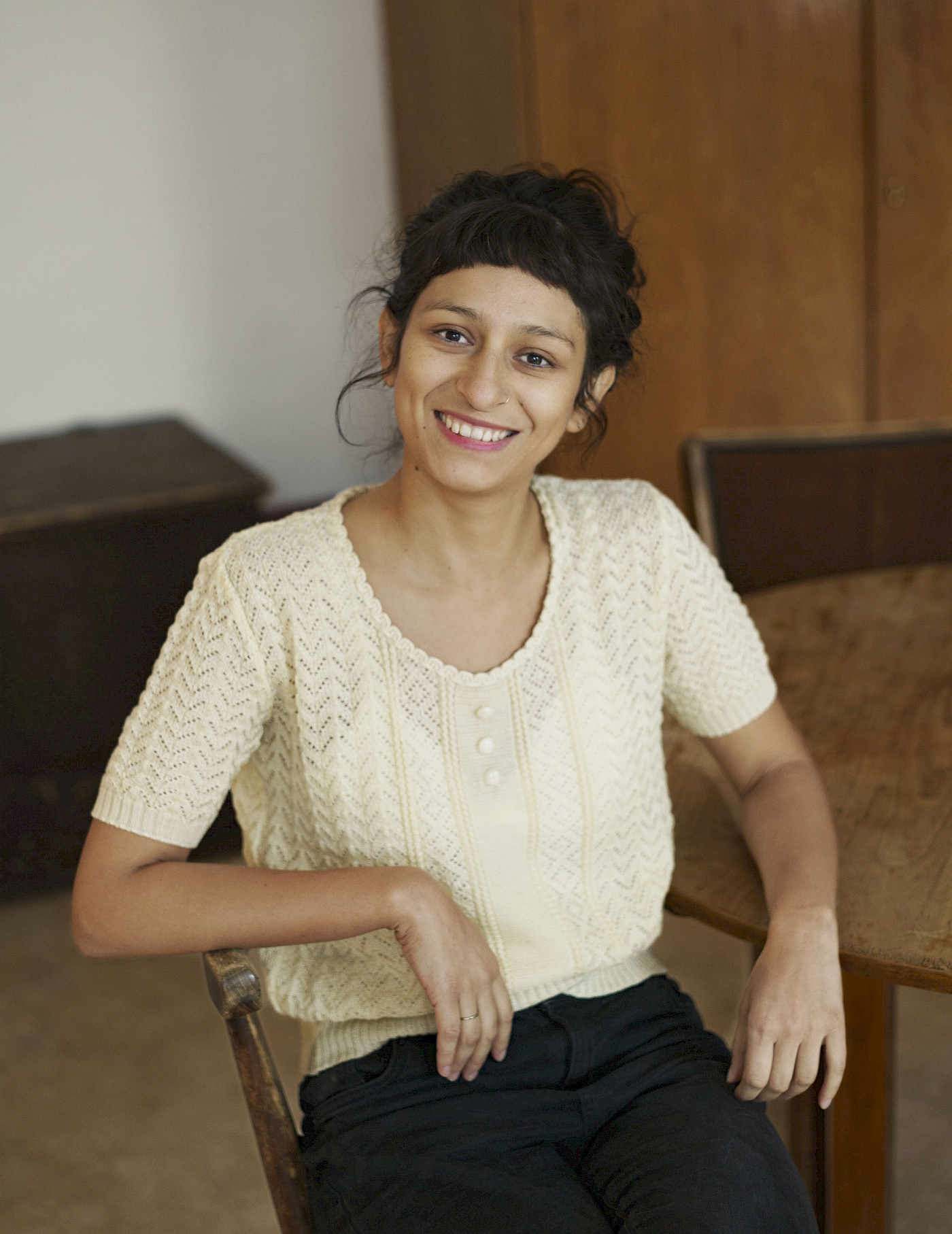 © Ruppert Bohle