Sun-drenched waterfront: Radialsystem's sprawling outdoor spaces are perfect for summer parties, barbecue buffets, or as an outdoor lounge area for a larger event – spectacular sunsets at no extra cost!
The Spree Terrace and its adjacent lawns also offer the space to complement and expand our premises with pavilions or gala tents.
Our 42m long landing stage allows direct access from the water if you would like to offer your guests an unforgettable arrival or departure, integrate a boat trip into your event programme, or make use of a special floating workshop room.
On top, the Deck: A 400 m² open-air terrace on the 3rd floor of the building offers both a magnificent view of the water and a protective roof overhead. The Deck is accessible from two sides by stairs and is ideal for exclusive receptions, smaller dinners, or as a summer workshop room as part of a conference.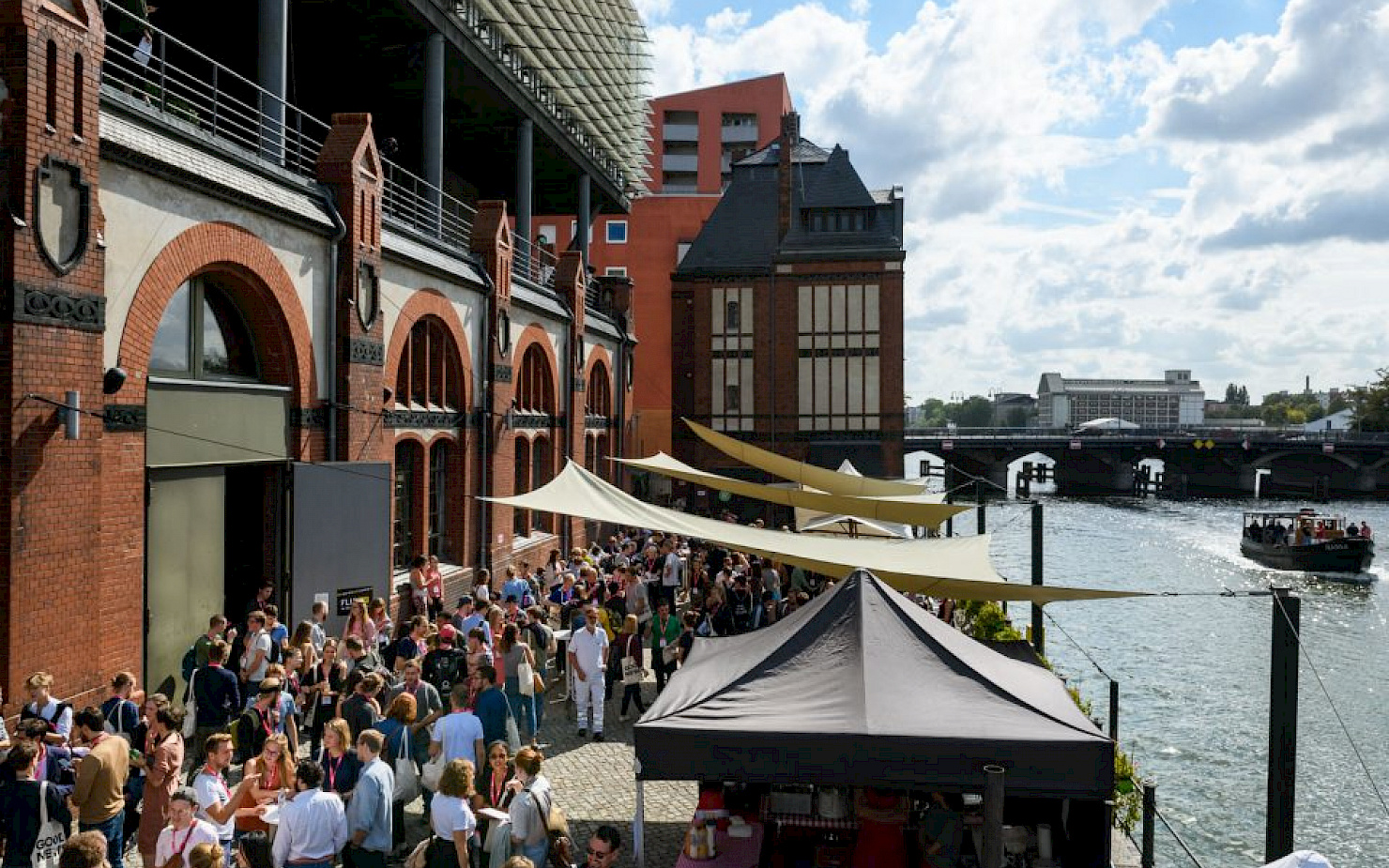 © Phil Dera
Base area
ca. 450 m² (ca. 4,843 square feet)
Dimensions
ca. 45 m x 10 m
Level | access
South side | accessible via foyer, outdoor premises and via the boat landing | restrictedly accessible due to the historical paving
Seating arrangements
Summer months on the Spree: 20 tables, 6 chairs each
Standing reception: max. 400 Pax
Pier
48 meters long | approved for all common passenger vessels
Green area
as lounge area or for additional summer seating
Electricity
Shockproof sockets | 16 und 32 Ampère
Flooring
Historical paving
Restrooms
Sanitary facilities for ladies and gentlemen | separate WC for the disabled (in the foyer)
Base area
ca. 350 m² (ca. 3,767 square feet)
Dimensions
ca. 22 m x 16 m
Level | access
3rd floor | two separate staircases as well as two elevators | not accessible
Seating arrangements
Standing reception: 100 Pax
Row seating: 100 Pax
Formal dinner seating: 100 Pax (10 per round table)
Electricity
Shockproof sockets | 16 and 32 Ampère
Flooring
Terrace timber planks
Restrooms
Sanitary facilities for ladies and gentlemen (ground floor | foyer)