With impressive dimensions, historical industrial architecture, and sweeping arched windows, the former machinery hall also boasts a preserved original crane bridge. Now a protected historical monument, it continues to represent the "heart" of Radialsystem today.
The Main Hall makes up Radialsystem's largest space with a surface area of 600 m². Located on the ground floor, it is accessible from the Foyer and the adjoining Side Hall (Saal). An ascending platform accommodates seating for up to 260 individuals, all of whom enjoy perfect acoustics and sightlines, whether they are sitting in the first or the last row. If necessary, the platform can be completely dismantled and the number of seats at ground level increased to 500. With its special ambiance, the Main Hall is also ideally suited for formal receptions and banquets.
An expansive delivery entrance in the immediate vicinity of the entryway enables ground-floor delivery directly into the Hall.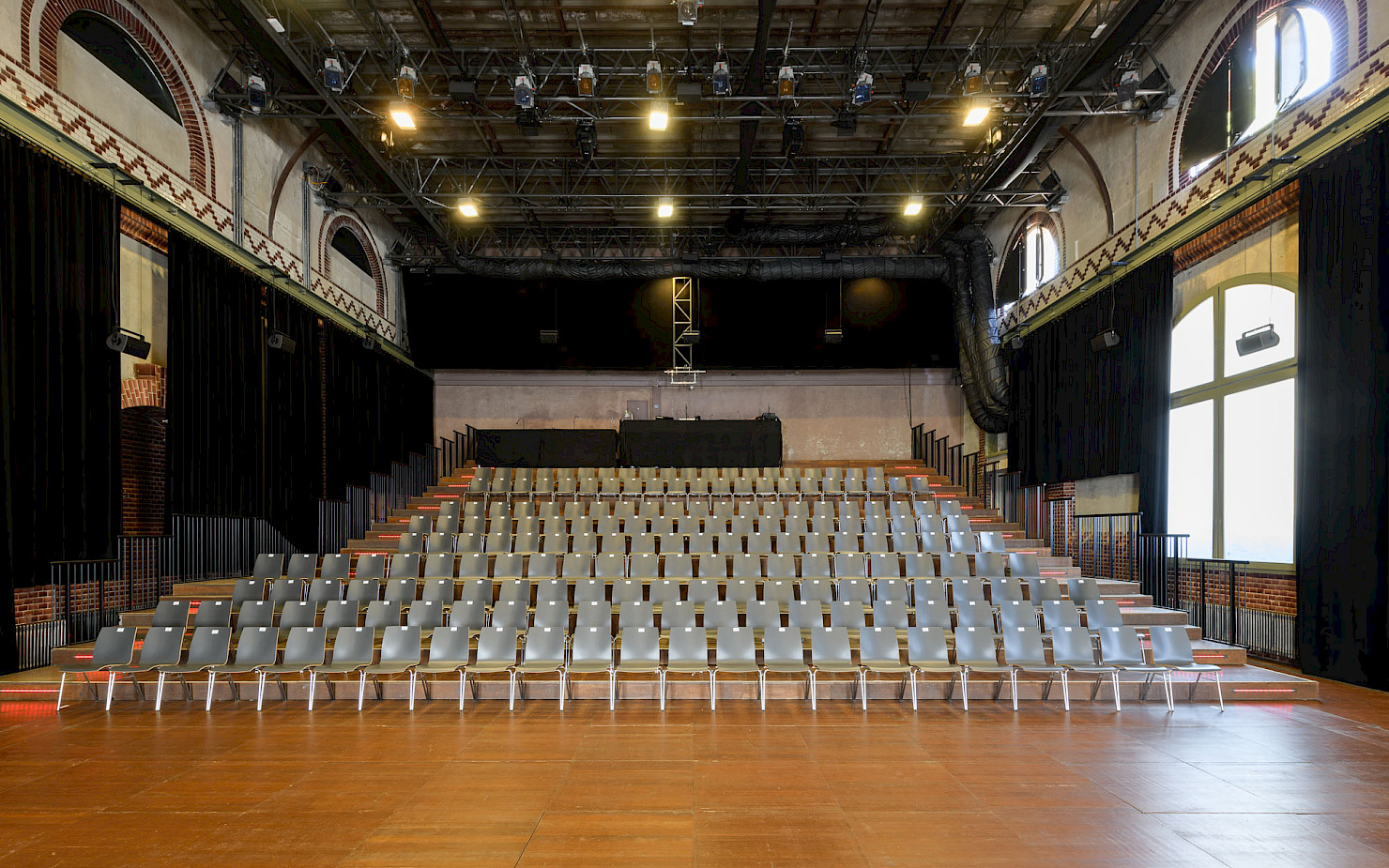 © Phil Dera
Base Area
578 m² (ca. 6,221 square feet)
31,56 m x 16,78 m | 20,20 m (front | back area)
Height
10,89 m
(underneath the spreader bars 9,58 m)
Grandstand
13 m (B) x 17,85 m (T);
12 Reihen mit 21 Plätzen
Supply Doors
3,42 m (W) x 3,56 m (H)
Level | access
Ground floor | barrier-free
Seating arrangements
Standing reception: 600-700 Pax
Row seating: with grandstand max. 450, without grandstand max. 520 Pers
Parliamentary seating: 240 Pax
Formal dinner seating: max. 330 Pax (ten per round table)
Technical equipment
Extensive technical equipment | numerous hanging options (details on request)
Special feature
Protected historical monument | sweeping arched windows | historical crane bridge
Electricity
Shockproof sockets | 16, 32 and 63 Ampère
Flooring
Wooden floor | dark brown
Restroom
Sanitary facilities for ladies and gentlemen | separate WC for the disabled (in the foyer)