In a climate of an increasingly diverging society, the concept of empathy is experiencing a renaissance. Whereas the ability to empathize is used as a means in the struggle against rage at the supposedly other, still others see in it the danger of a sentimental depoliticization. With "New Empathies", radialsystem launches a series of programmes that approaches the possibilities of practicing the empathic in concerts, installations, choreographic works, workshops and discussions, while examining its potential in relation to artistic, technological, political and ecological issues.
The series startes in June 2019 with "HARLEKING" and "EMPATIA –eight emphatic caprices" by Enrico Ticconi and Ginevra Panzetti and will be continued in August 2019 by Begüm Erciyas with her performance "Pillow Talk".
In "Constructing Love", the first part of the new series "Pas de deux" by Solistenensemble Kaleidoskop, choreographer Milla Koistinen and musician Paul Valikoski invite the audience to reflect on a reinvention of life and love. In his new work 7 choreographer Radouan Mriziga, currently artist in residence at Kaaitheater Brussels, sets out in search of the last wonder of the world: the human body – and contrasts the beauty of its movement with the geometric power of architecture and sculpture. André Uerba's performance "Burn Time" offers the audience an intense experience of time, which arises through the successive ignition of strands of thread, creating a space that is undergoing change, and thereby unleashing a strong suggestive power into the darkness. In "What's That Noise?", artist Sandhya Daemgen invites us to attend an atmospheric listening party that, through live music, stories, and recordings, pays tribute to female artists and musicians of the past who have crossed musical and social boundaries.
Due to the current situation, the fourth "New Empathies" weekend at the beginning of May 2020 couldn't take place as planned – and the question of how we can create resonance among ourselves as a basis for community, solidarity and social awareness despite keeping a minimum distance and the ban on contact has suddenly become a noticeable challenge.
Therefore,  at the end of April we started our new online series "New Empathies - Far from a distance", in which we want to create periods of encounters and shared aesthetic experience as well as explore and reflect on the possibilities and limits of virtual spaces as places of empathy. The series started with the workshop "What's That Noise?" by Sandhya Daemgen and a performance by Juan Dominguez  that focused on the voice and listening instead of physical-visual aspects. The Slow Reading Club invited us to read collectively and the collective Scores for Gardens planted virtual gardens. In June we continued with a lecture performance by sound-journalist Peter Cusack and an interactive sound-installation by Wojtek Blecharz...
Gefördert von der Berliner Senatsverwaltung für Kultur und Europa.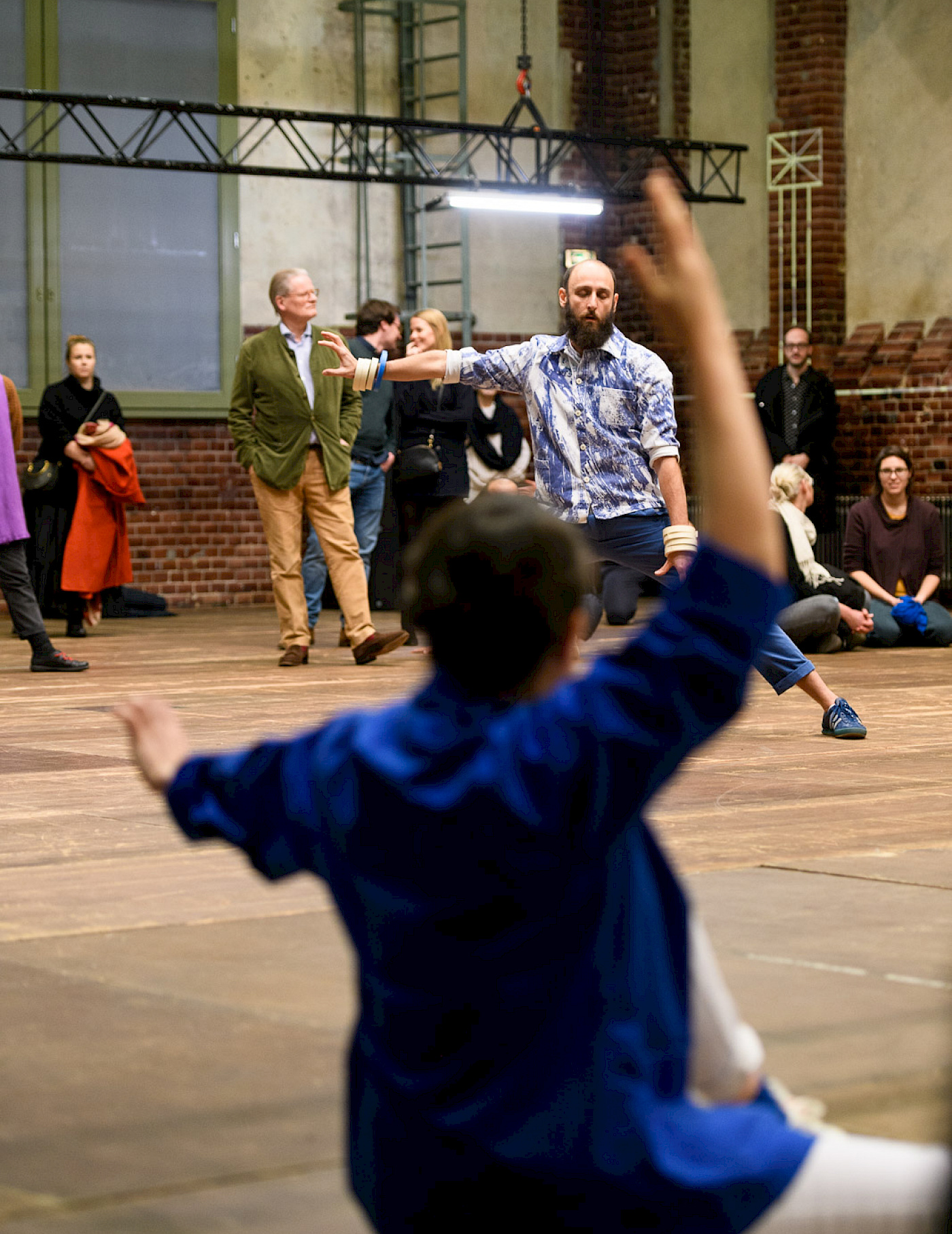 © Phil Dera
Staying in touch by listening to music together: As part of the online-programme "New Empathies – Far from a distance" the artist Sandhya Daemgen invites you to a virtual workshop dedicated to Pauline Oliveros' deep listening technique. By listening to a longer piece of music together, we learn to refocus our attention and at the same time explore the complexity of listening by exchanging thoughts and experiences. When was the last time we just listened? Where can listening take us individually, collectively, artistically and politically? Listening can be attention, connection, empathy, activism, feminism, openness, intimacy, a necessary pause, space, deepness....
"What's That Noise?" is a series that focuses on the music and stories of select female* artists of the past, recognizing and cherishing those who have pushed musical and societal boundaries. The series has been taking place at various venues and festivals for art, music and performance since 2014. In January 2020, a first very successful evening was realized at Radialsystem as part of the series "New Empathies".
Sandhya Daemgen is an artist and performer and works in interdisciplinary projects with voice, sound and body. She has a degree in both Cultural Studies from Wesleyan University, USA and Dance and Choreography from UDK, Berlin. She has performed internationally with Tino Sehgal, Alexandra Pirici, Ari Benjamin Meyers and Heiner Goebbels.
Artistic director and host
Sandhya Daemgen
"New Empathies" is supported by Berliner Senatsverwaltung für Kultur und Europa. Media partners: tip Berlin, Ask Helmut und Exberliner.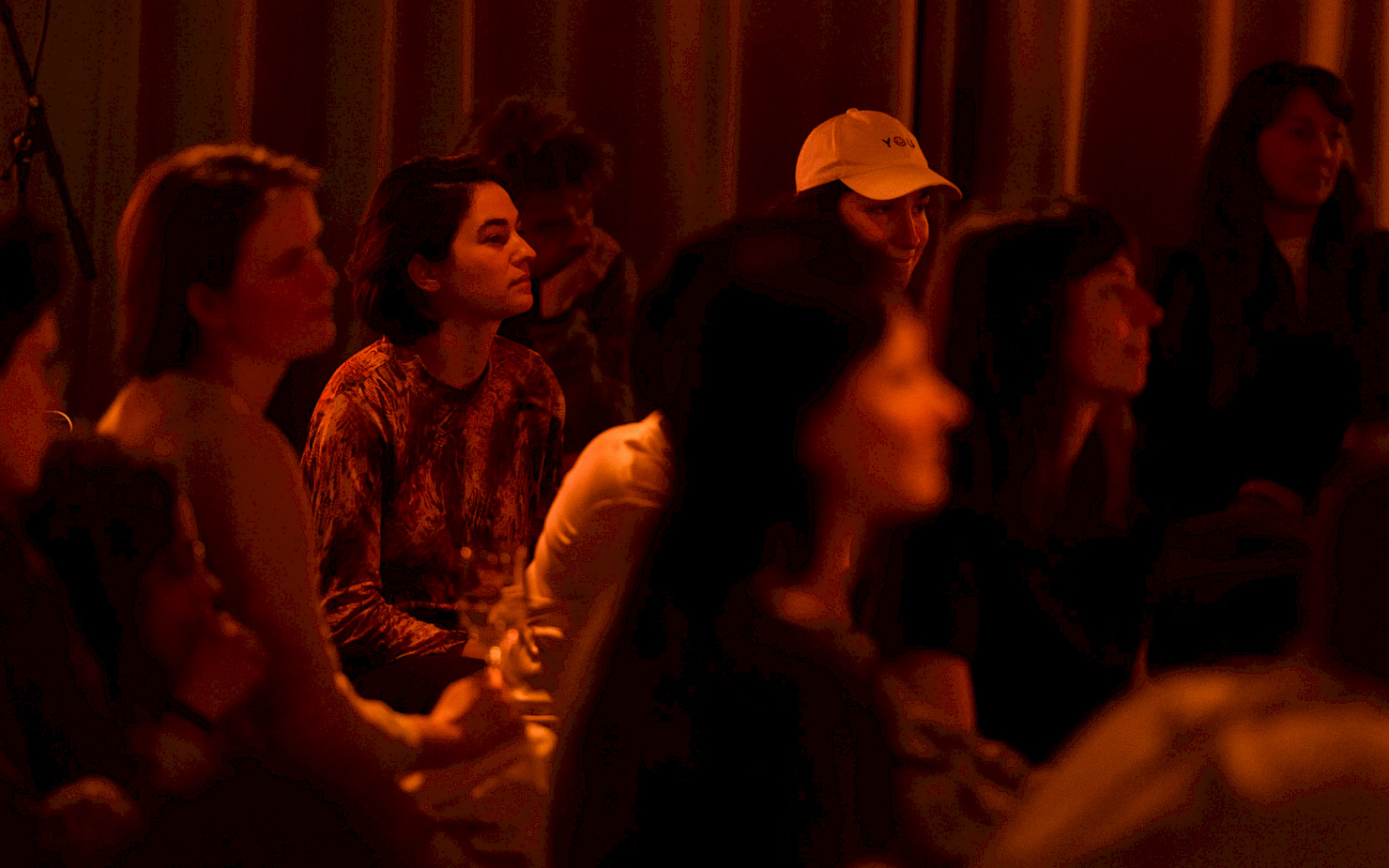 In the performance "My Only Memory," by artist and choreographer Juan Dominguez, the audience experiences a choreographed text by listening to a voice without seeing who is speaking: Sometimes the voice is female, sometimes male, partly in the singular, partly in the plural, it speaks to itself, challenges itself, responds... thus the voice becomes the physical body and the spoken text becomes movement and action of the performance, creating a contemporary and poetically imagined landscape.
A production by Juan Dominguez in co-production with Kunstencentrum BUDA and Tanzfabrik Berlin, as part of apap - Performing Europe 2020, co-financed by the Creative Europe Programme of the European Union, Los Teatros del Canal, Madrid, BAD - Bilbao Antherkia Dantza. With the support of Skogen, Gothenburg and NIDO, Rivera-Uruguay. Supported by the Hauptstadtkulturfonds. Thanks to Astrud, Bomba Estéreo, Los Ángeles Azules, Francis Cabrel, Victoria Pérez Royo, María Jerez, Mette Edvardsen and Julia Rodriguez.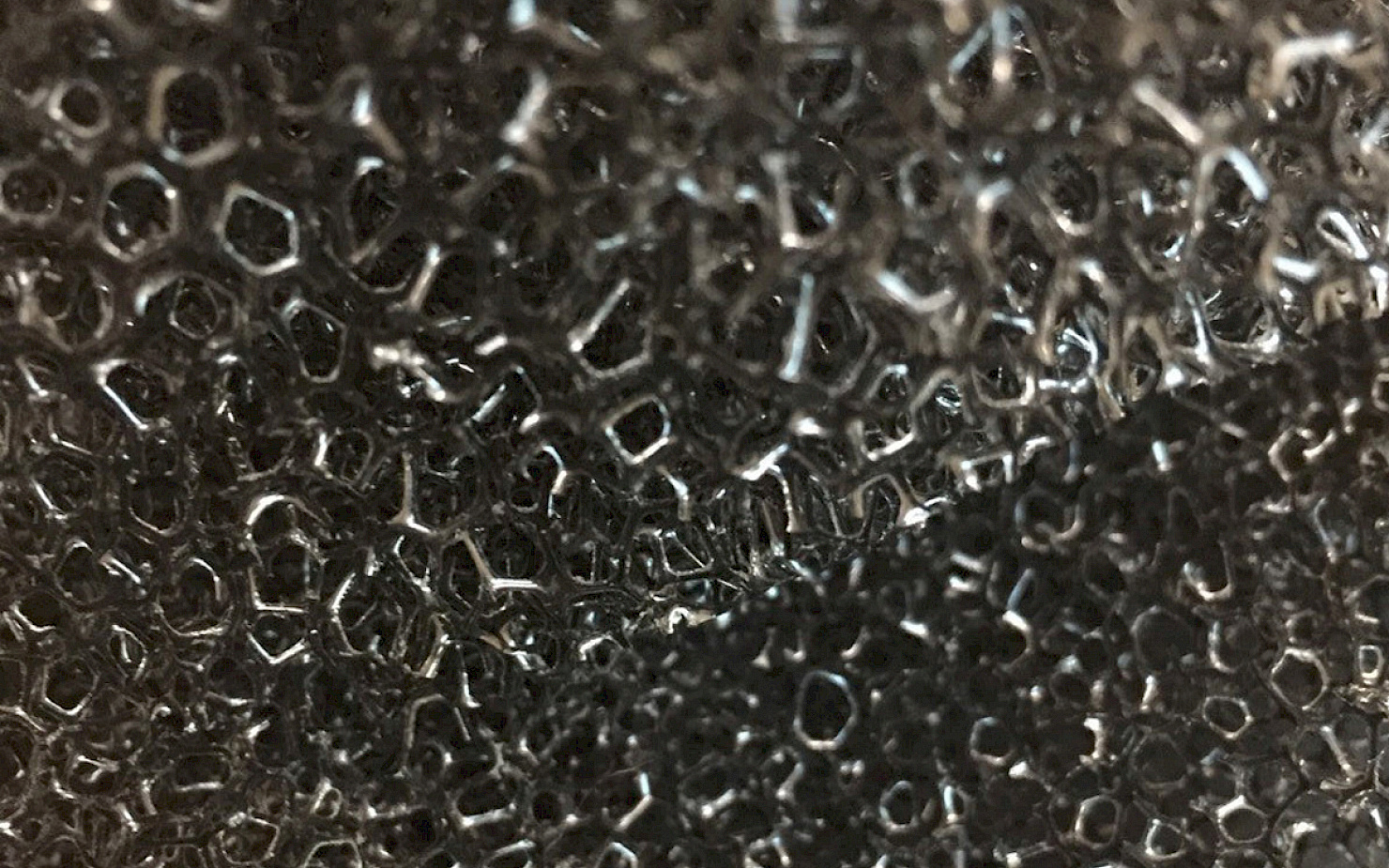 A series of mediated encounters or experiments in reading between technical devices – with the screen space as a medium for dispersed intimacies and distracted actions. The Slow Reading Club, a first time guest at radialsystem as part of the online-programme "New Empathies – Far from a distance", draws little distinction between the interfaces and the bodies, the architectures, the devices, and texts they cluster: rooms vista onto rooms. The series "YES" of the SLC includes a number of stand-alone sessions in the course of May for small groups to meet and read together, interfering the interface, drawing it as a mutable participant within the experience of reading... On four evenings in May, the SRC invites you to three intimate online-reading sessions, in which two artists* and two participants* read selected texts. It's part of the artistic concept that themes and texts will not be announced or sent out by the SRC until the day of the event. On May 14th, a collective reading-evening will take place in a larger group.
The Slow Reading Club (SRC) is a semi-fictional reading group initiated by Bryana Fritz and Henry Andersen in late 2016. The group deals in constructed situations for collective reading. SRC looks at, probes, and interrupts 'reader*ship' as a way to stimulate the contact zones between reader and text, text and text, reader* and reader*. SRC does not aim at deconstruction or even comprehension of the texts in hands, but at the production of a kind of excess: to temporarily suspend criticality for intimacy and to negotiate agencies with the text...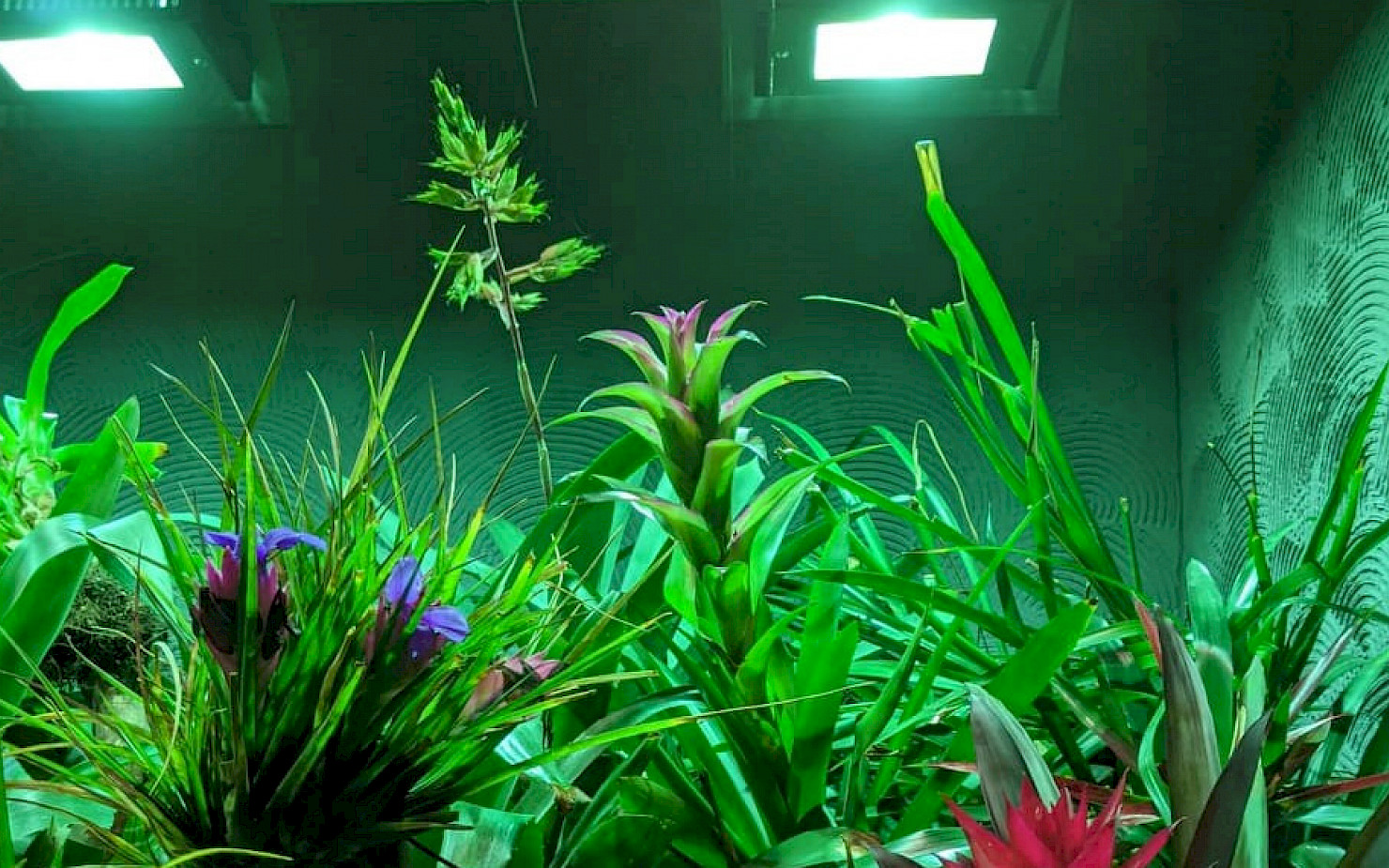 © Juan Felipe Amaya Gonzalez
Scores for the Time being
With an online workshop, the interdisciplinary research group "Scores for Gardens" searches for artistic forms of expression for the current situation: Many people around the world are at the moment confronted with the struggle of being caught in an immobilised state, a state of being "in-between". What comes after seems impossible to imagine, our lives before are already too far away... We are drained by nostalgia and uncertainty when it comes to relationships, whereas the vulnerability and fragility of our current structures are becoming increasingly visible. We are experiencing a time that has never before existed in this way – and if the "in-between" is defined as an appropriate narrative, important questions can be derived from it: How do our bodies and (artistic) language respond to this situation? And how does it affect our ways of perceiving our surroundings?
During the workshop the hosts of the collaborative garden share their playful approach on shifting perspectives in an attempt to capture and nurture this "in-between"... Through listening, movement and writing exercises, we will attempt to contain and nurture our current in-between states: becoming fruit, trees, bacteria, roots and moist wet soil, be buried, forgotten, or transformed... In this time-sensitive present, when gathering in the fictional space of a garden, we ask: how can we dig and carve some space where we can allow things such as uncertainty, grief, or joy to happen?
"A Score for the Time being" - inspired by the story "A Tale for the Time being" by Ruth Ozeki - is a collective attempt by the research group "Scores for Gardens" to create a temporary digital garden. The group borrows the symbiotic and organic form of gardens, aspiring to reflect on the complexity of the remote, transdisciplinary, collaborative artistic practices. Over a period of one week, a virtual space will be created in which the participants* of the workshop will work together with the artists. The workshop begins and ends with an online meeting where all participants come together.
"Scores for Gardens" is an interdisciplinary study group formed by Katrine Elise Leth Nielsen, Juan Felipe Amaya González and Angeliki Tzortzakaki in August 2019. It borrows the symbiotic and organic form of a garden to reflect on the complexity of cross-cultural and remote collaborative artistic practices. "Scores for Gardens" as an open-end learning platform operates with peer-to-peer exchange of ideas, tasks, and inputs remotely (via digital platforms) and by meetings focusing on the intersection of movement, writing, and voice work.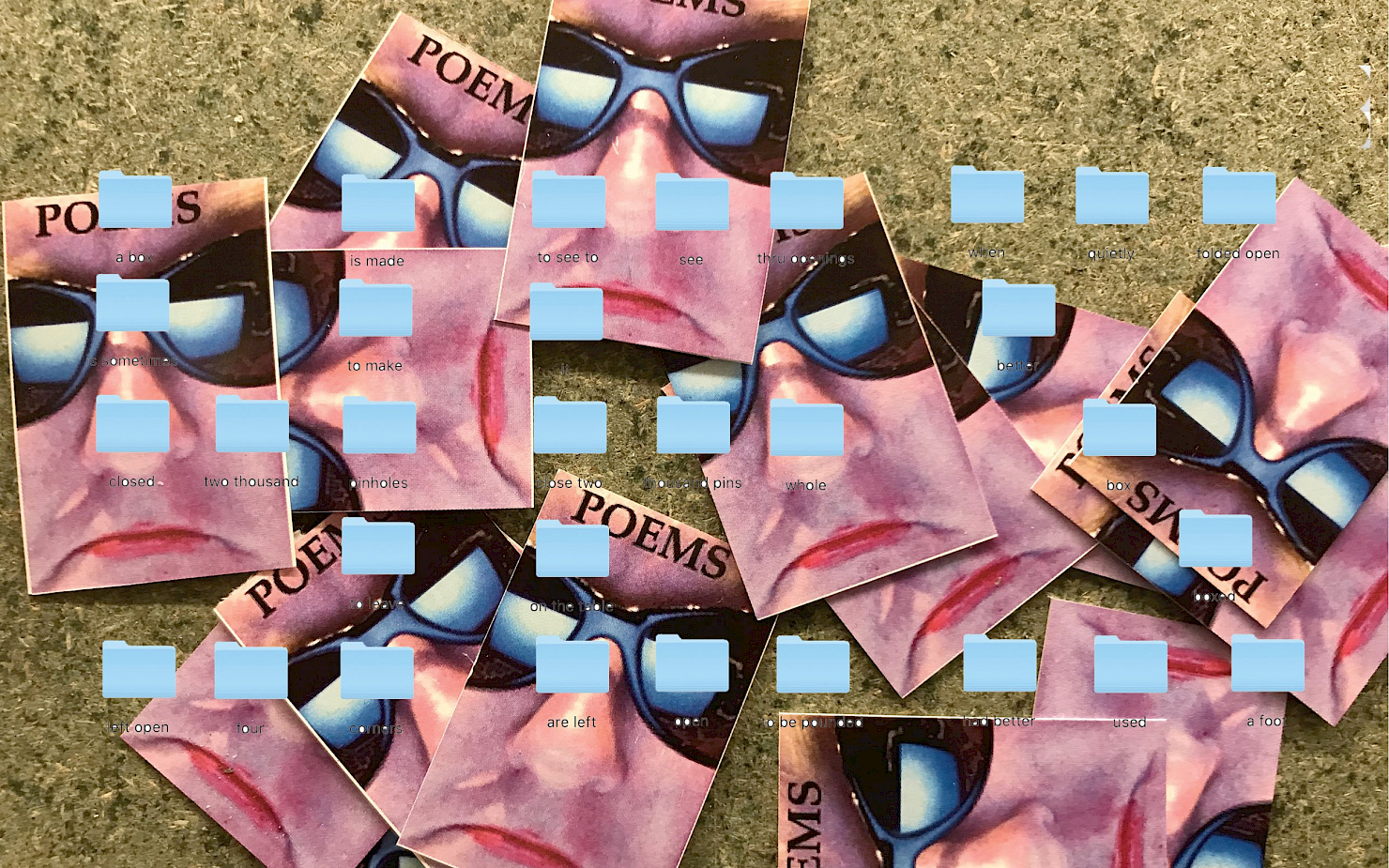 Searching for sound, distracted by colour...What's the sound of an abandoned place? Over a period of five years, sound artist Peter Cusack explored the former Soviet military base Vogelsang and used sound recordings and photographs to document the changes of a place that was abandoned almost 30 years ago and has been falling more and more into ruin ever since. In a lecture performance as part of the online series "New Empathies - Far from a distance" at Radialsystem, he presents the material he collected there as a combination of stories, sounds and images. Through the approach of listening, he draws attention to the complexity of transformation processes that follow a crisis... How has our reality changed during the crisis, can we hear this change?
Situated 60 km north of Berlin in a forest, Vogelsang, at the height of its time, housed not only nuclear weapons, but also more than fifteen thousand people with the army personnel of all kinds and their families stationed there. Once a thriving town with cafés, schools, sports halls and cinemas, this place was abandoned by the military in 1994 and has been left to decay ever since. Today, the area is a nature reserve, but the ruins remain. Some buildings have been demolished, others have fallen of themselves, and some are today almost still in their original state. It is a powerful, atmospheric place that is constantly evolving. Ghosts of the past entangle with possible futures. Slowly nature is returning to this deserted place: owls, cranes, deer and woodpeckers make homes there, wolves have recently returned, ants, worms, fungi, nematodes, mosses, bacteria, seeds, roots, seedlings, trees, winds and water are constantly active. At the same time it attracts a bizarre selection of people: birdwatchers, photographers, drug addicts, GPS game players and US soldiers in search of Cold War memorabilia... they all leave traces and stories behind.
Peter Cusack is a field recordist, sound artist and musician with a long interest in the sound environment. In 1998 he initiated the "Favourite Sounds Project" to discover how people interact with the soundscapes of the places where they live. Starting in London it has travelled to other world cities including Beijing, Prague, Manchester, Hull and Berlin. His project 'Sounds from Dangerous Places' investigates the soundscapes of sites of major environmental damage such as the Caspian oil fields, the Chernobyl exclusion zone and the Aral Sea, Central Asia, and asks the question, "What can be learned about dangerous places by listening to their sounds?"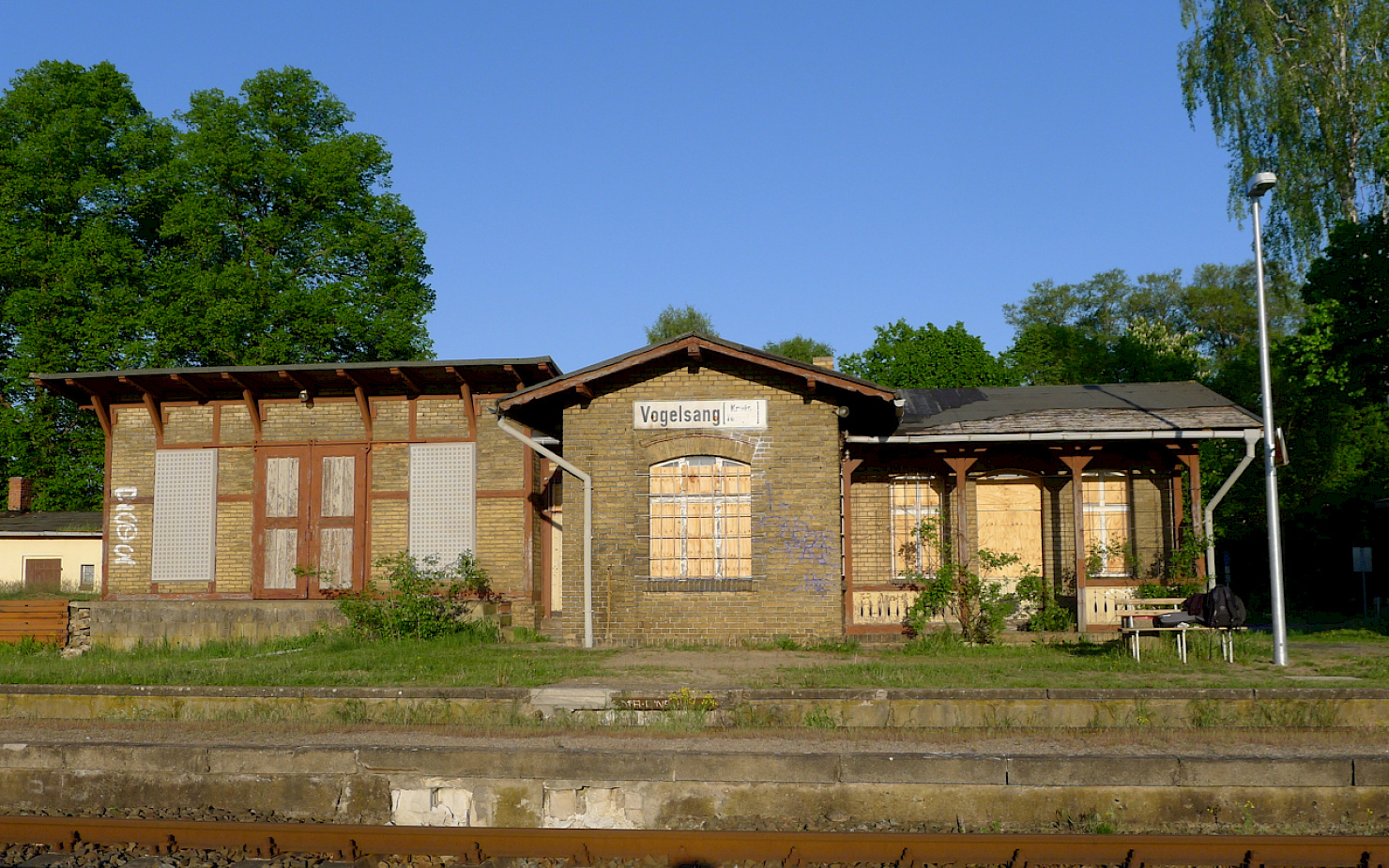 © Peter Cusack
Sound installation for those who are near and far... With his sound installation "INTERMEDIA" as part of the online series "New Empathies - Far from a distance" in Radialsystem the composer Wojtek Blecharz invites the audience to actively participate in making sound. Out of the situation of lockdown, which reduces the life of many people to a limited space – the same space is used for living, working, eating and sleeping – Blecharz has developed an interactive and spatial sound mediation, which emphasizes the social aspect of music and tries to expand our currently limited reality through sound.
In a time where any kind of music can be played at any time, at any place, Blecharz uses avaliable technologies to reactivate the long tradition of playing music together in a domestic setting as an aspect of our everyday life. In his sound installation the participants* are not passive listeners*: The structure of the piece consists of several tracks with different sound characteristics, but played together they will complement each other, creating a multilayered texture. Depending on the number of technical devices (laptop, smartphone, tablet, etc.) and where in the room or apartment these devices are placed, the sound installation varies. The participants* will be guided during a zoom session how to play the tracks that are available online and thus create their personal sound installation that can be repeated and varied as often as liked.
Wojtek Blecharz, born in 1981 in Gdynia, Poland, graduated from the Fryderyk Chopin University of Music in Warsaw in 2006 with a Master of Arts degree and received his doctorate in composition from the University of California, San Diego in 2015. Since 2012 he has been curating the Instalakcje Music Festival that features non-concert music at Warsaw's Nowy Theater. Among his works are the three opera installations "Transcryptum" (2013), "Park-Opera" (2016) and "Body-Opera" (2018). In 2018 he also composed the opera "Fiasko", based on a text by Elfriede Jelinek. In 2012 Blecharz received a scholarship from the International Summer Course for New Music Darmstadt, in 2013 he was one of the winners of the IMPULS composition competition in Graz. In October 2016 he took part in Ari Benjamin Meyers' 15-day installation "Musikwerke Bildender Künstler" in the Hamburger Bahnhof, during which he composed publicly for four hours each day in the museum. He has created works for the Kwadrofonik Ensemble (Warsaw), Klangforum Wien, International Contemporary Ensemble (NYC), Collegium Novum Zürich and Ensemble Eklekta (Geneva), among others. His works have been performed at the Warsaw Autumn Festival, the Salzburg Biennale, the Museum of Modern Art in Tel Aviv and the MATA Festival (NYC).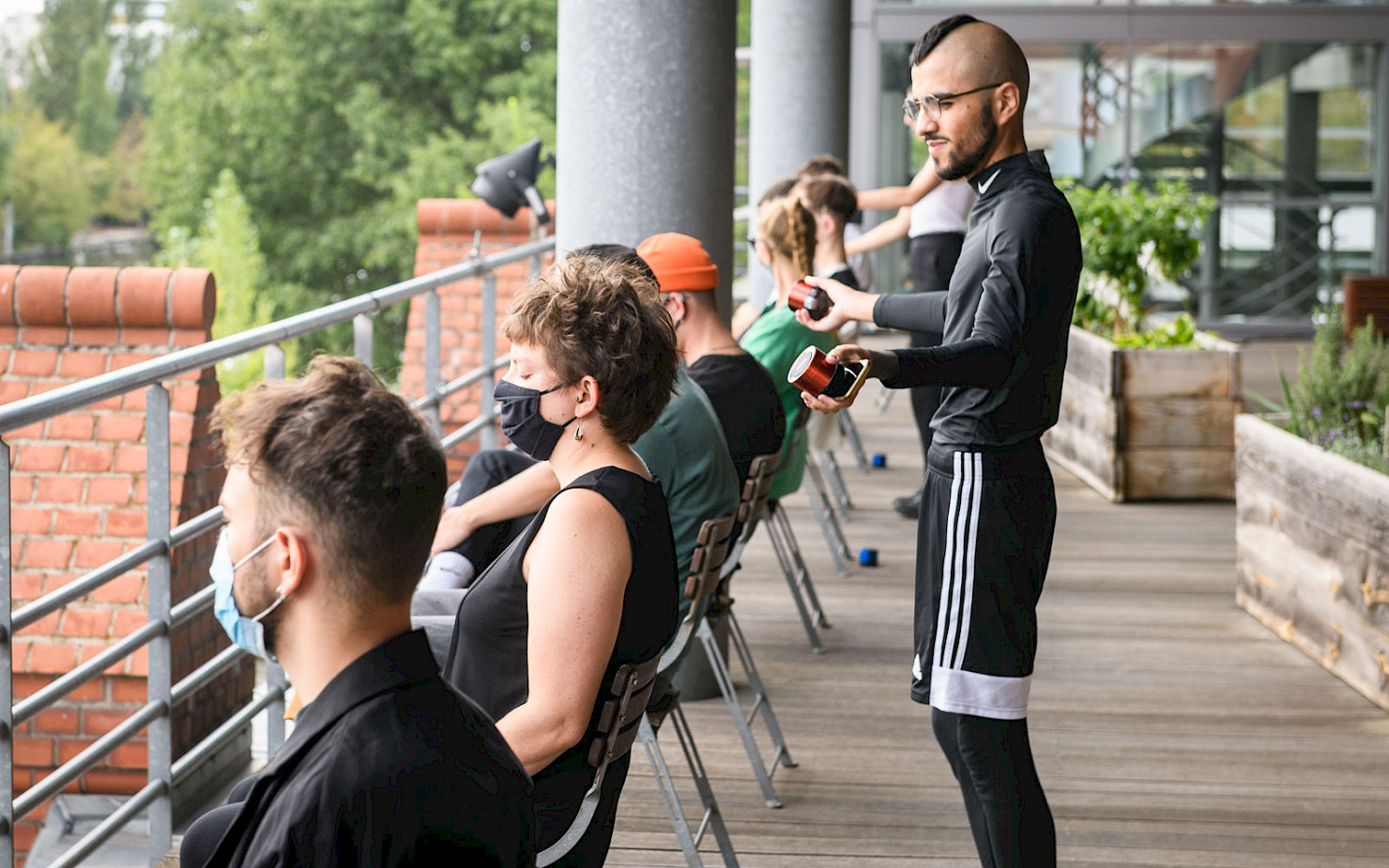 © Phil Dera
In his new work "7" choreographer Radouan Mriziga, currently artist-in-residence at Kaaitheater Brussels, sets out in search of the last wonder of the world: the human body – and contrasts the beauty of its movement with the geometric power of architecture and sculpture.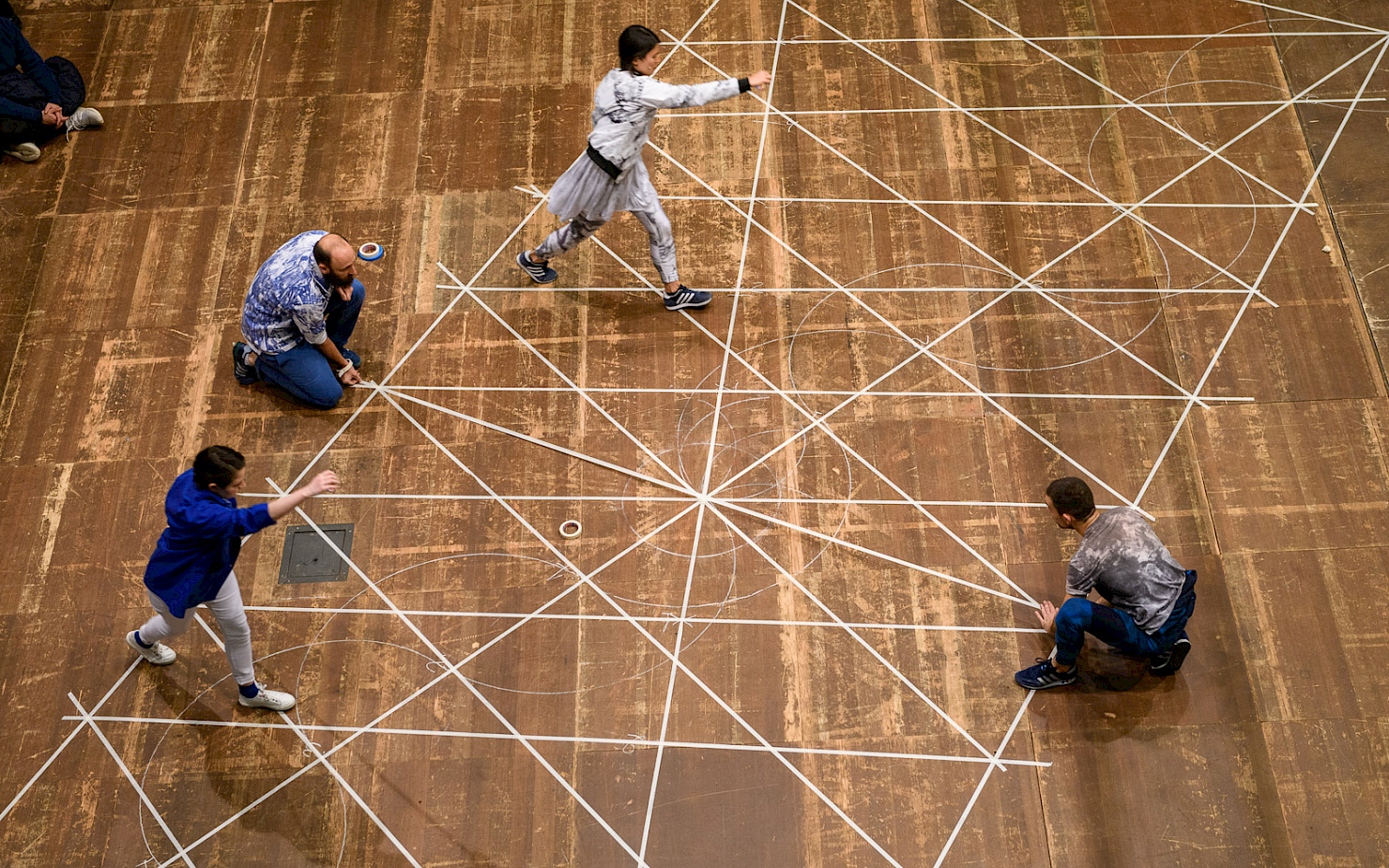 © Phil Dera
André Uerba's performance "Burn Time" offers the audience an intense experience of time, which arises through the successive ignition of strands of thread, creating a space that is undergoing change, and thereby unleashing a strong suggestive power into the darkness.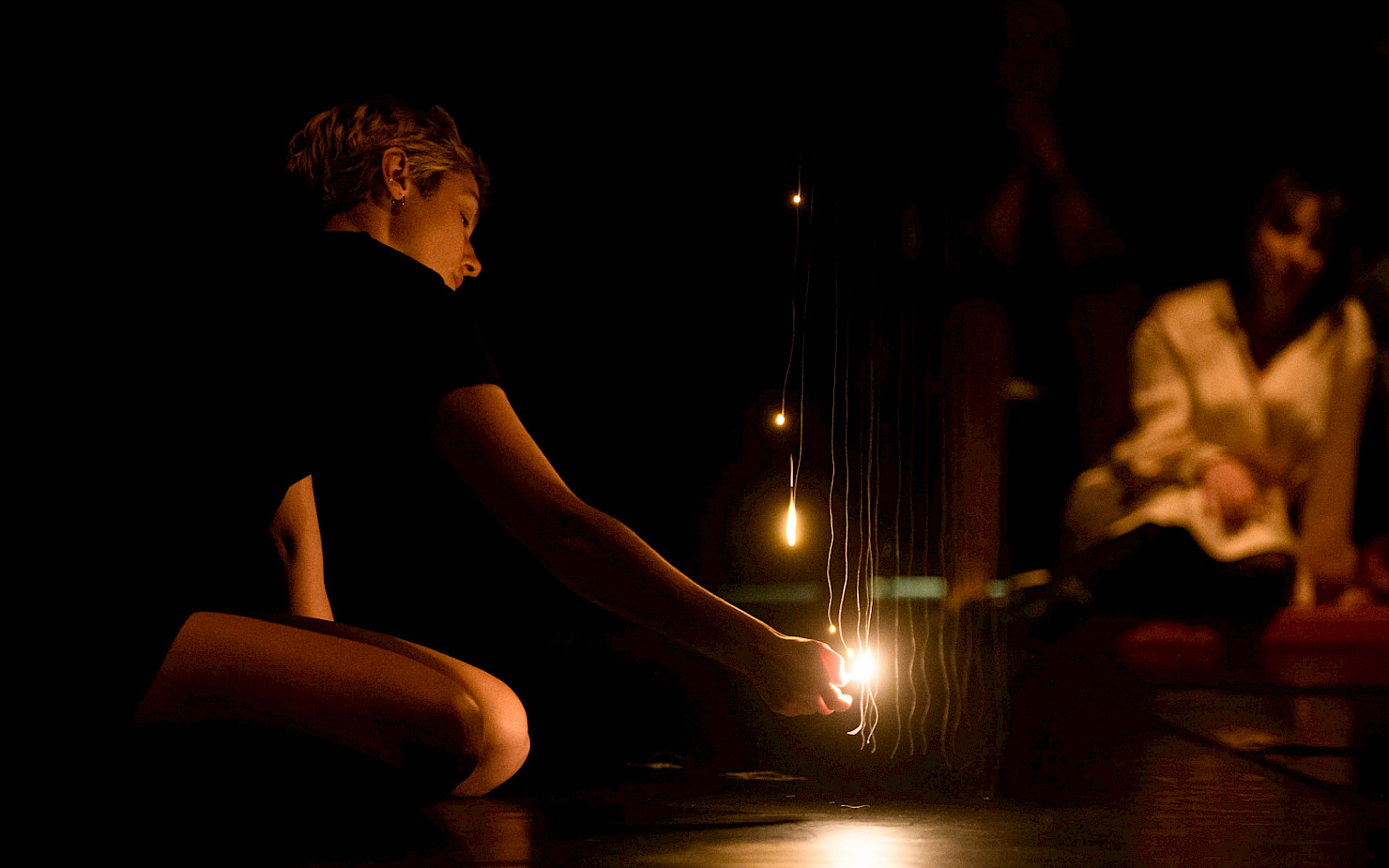 © Phil Dera
Pas de deux #1 – Constructing Love
In "Constructing Love", the first part of the new series "Pas de deux" by Solistenensemble Kaleidoskop, choreographer Milla Koistinen and musician Paul Valikoski invite the audience to reflect on a reinvention of life and love.
"Denn jeder weiß, dass Liebe eine Neuerfindung des Lebens ist. Die Liebe neu zu erfinden, bedeutet diese Neuerfindung neu zu erfinden", schreibt der französische Philosoph Alain Badiou. In "Constructing Love", dem ersten Teil der neuen Reihe "Pas de Deux" des Solistenensemble Kaleidoskop, setzen sich die Choreografin Milla Koistinen und der Musiker Paul Valikoski mit Begegnung, Trennung, Vereinigung und deren Ende, Harmonie und Verneinung auseinander. Die Künstler*innen interagieren miteinander zwischen Objekten und Klängen, eine markante Choreografie spannt den Bogen zwischen individualistischem Nachsinnen und Momenten des gemeinsam Erlebten. Milla Koistinen und Paul Valikoski laden das Publikum ein, über die Neuerfindung des Lebens und der Liebe nachzudenken.
Performance von Begüm Erciyas   
Do 29 08 2019   19:00 Uhr
Begüm Erciyas, 1982 in Ankara geboren, lebt seit 2010 in Berlin. Bereits während ihres Studiums der Molekularbiologie und Genetik war sie in verschiedene Tanzproduktionen in der Türkei involviert und Teil der Forschungs- und Projektgruppe [laboratuar]. Später studierte sie Choreografie in Salzburg. Seit 2006 ist sie Teil des Künstler*innenkollektivs Sweet and Tender Collaborations. Sie war Artist in Residence an der Akademie Schloss Solitude (2007), am K3 – Zentrum für Choreographie – Tanzplan Hamburg (2009), an der Villa Kamogawa / Goethe-Institut Kyoto (2014) und am Circuit Est / Goethe-Institut Montréal (2015). 2017 erhielt sie ein Forschungsstipendium der Saison Foundation in Tokyo. Ihre bisherigen Arbeiten wurden u.a. beim Kunstenfestivaldesarts (Brüssel), bei Tanz im August (Berlin), auf Kampnagel (Hamburg), bei iDANS (Istanbul) und im Tanzquartier Wien präsentiert.
‌‌
Im Rahmen der neuen Reihe "New Empathies" im Radialsystem zeigt Begüm Erciyas, die sich in ihrer performativen Forschung mit dem Akt des Sprechens und der Unheimlichkeit der Stimme auseinandersetzt, eine immersive Performance, bei der die Stimme ein unergründliches Medium bleibt. Im digitalen Zeitalter sind wir ständig im Zweifel darüber, ob eine Person spricht oder eine Maschine. Gewissheit und Zweifel darüber wechseln sich in "Pillow Talk" ständig ab. Das Publikum – verteilt auf einer hügeligen Landschaft aus Kissen – tritt mit einem*einer virtuellen Partner*in in einen Dialog, innerhalb dessen Eindrücke geteilt werden, kurz geschlafen und gemeinsam Zeit verbracht wird. "Pillow Talk" ist eine Einladung, sich in Beziehung zum Nichtmenschlichen zu setzen.
Extinction Room & Nocturne for broken vocal cords
Installation & Performance von Sergiu Matis
Fr 30 08 2019   20:00 Uhr
Sergiu Matis wurde in Cluj-Napoca, Rumänien, geboren. Dort studierte er von 1991-2000 Tanz am Liceul de Coregrafie und anschließend an der Akademie des Tanzes Mannheim als Stipendiat der Tanzstiftung Birgit Keil. Seine Karriere begann am Tanztheater Nürnberg. Seit 2008 lebt Sergiu Matis in Berlin. Er arbeitete u. a. mit Colette Sadler-Stammer Productions, Yossi Berg, Oded Graf, Daniel Kok und Jee-Ae Lim. Im Februar 2014 schloss er als Stipendiat der Studienstiftung des deutschen Volkes den Master Solo/Dance/Authorship (SODA) der Universität der Künste Berlin/HZT ab. Als Choreograf schuf er u.a. die Stücke "Keep It Real" (2013), "Fake – the real deal" (2014), "Explicit Content" (2015), "Simuliert" (2015), "Deleted Scenes" (2016), "Neverendings" (2017) und "Hopeless." (2019), die in Berlin und international gezeigt wurden. Matis begreift neben dem Körper die Stimme als gleichwertiges Instrument des Tanzes und choreografiert Bedeutung und Ideen mittels Sprache als performativem Text. Seit 2009 tanzt er in verschiedenen Produktionen von Sasha Waltz & Guests.
Extinction Room is a performative multi-channel sound installation consisting of recordings of extinct and endangered bird species. It explores the idea of nature in western society and its representation in artistic and cultural products, at a time when climate change specialists have given us permission to panic.

In this solo version the audience will be guided through a soundscape developed in collaboration with composer AGF (aka Antye Greie). The performer will tell the stories of these species as we listen to their calls, cries and songs from the speakers that hang in the space like cages. The birds' extinction narratives will interweave with their myths. Folk songs and dances will be brought to life. The emotional load – the sorrow – will be augmented by the performer, who will skilfully guide the visitors through these traumatic experiences of loss.

The first phase of Extinction Room was shown in June 2019 at Art Radionica Lazareti in Dubrovnik. Following the Berlin phase it will move to eXplore dance festival in Bucharest, then Bozar Brussels as part of Europalia Festival, and back to Berlin for Tanznacht in September 2020. The bird sounds are courtesy of the Macaulay Library at the Cornell Lab of Ornithology and the Xeno-canto Foundation.

Extinction Room will be performed alongside Sergiu Matis' Nocturne for broken vocal cords, one of his Noise Nocturnes, a series of performances and texts that revisits the romantic genre in its fascination for the night and darkness, imitating nature and flirting with folklore. The massive blocks of acoustic and motoric noise, as well as the abundance of recycled texts spoken at high speed or shouted, constitute the dense score of the nocturne. Choreographic tools applied to movement and voice make navigation possible through the overload of glitched and fragmented moves and sounds, by supporting chaos with coherence. Intense shouting transforms the voice into a hopeless and hurtful tune.